WHO IS DOCTOR PEAT?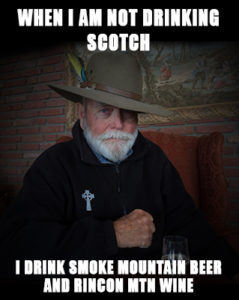 I AM! from Clan Baird.  I am first and foremost a lover of  all  scotch whiskies, but especially those with a good robust peat flavor    Second, my Scotch heritage goes way back.  My sur name was invented in North America, probably in Canada.  We like to think the founder was a scoundrel form the Highlands.  We know from tracing the women in the family that we are wee bit of Gamble, McClean,  and of course my Great, Great, Great Grandmother was Nettie Baird, a fine lady.  We also have a few non-clan names on the  ladies watch, such as Watt.    
       Third, I am also connoisseur of fine Beers and wines from my family facilities. You might find a wee bit of peat in some of my non- scotch.  Certainly the flavor of our traditions is at home in our products.
     Fourth, Just to confuse you a bit more, I am also a Scottish Piper following in the footsteps of my ancestors. Currently I am a member of the Santa Barbara Sheriffs Pipe Band.
      I know scotch, and I know the distilleries. I have not been to all of them, but most.  I have studied the distillery methods in Scotland and am qualified to comment on them and their product.  Nowhere else in the world can you find the strange combination of water, Barley, and peat that makes Scotland's finest.